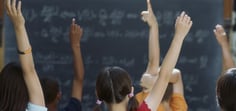 Name: Huelva Educates Program
Responsible: SEJ-535
Funding: University of Huelva
Beginning and End Dates: 2012 - 2015
Population: University students of Psychology, Psychopedagogy, Social Education, Primary Education, and Early Childhood Education. Students in the third cycle of primary education and the first cycle of secondary education.
Location: Huelva
Summary: This educational training proposal seeks to prevent failure and early school dropout while improving the training of future teachers. Through the Service-Learning methodology, it was demonstrated that both objectives were compatible and complementary.
Institutions: University of Huelva
Products
- Hervás, M., Polo M. T., Fernández, C., Fernández, M., & Tallón S. (2018). Nuevos retos en la educación. El impulso de metodologías alternativas Aprendizaje-Servicio y Mentoría. International Journal of Developmental and Educational Psychology, 2(1), 407–416.
http://doi.org/10.17060/ijodaep.2018.n1.v2.1250

- Hervás, M., Fernández, F. D., Arco, J. L., & Miñaca, M. I. (2018). La mejora del rendimiento escolar y el clima social mediante un programa de intervención basado en el aprendizaje-servicio y mentoría entre iguales. Revista Española de Orientación y Psicopedagogía, 29(1), 91–107.
https://doi.org/10.5944/reop.vol.29.num.1.2018.23296

- Hervás, M., Fernández, F. D., Arco, J. L., & Miñaca, M. I. (2017). Efectos de un programa de Aprendizaje-Servicio en el alumnado universitario. Electronic Journal of Research in Educational Psychology, 15(1) 41, 126–146. http://doi.org/10.14204/ejrep.41.16049